Start 2024 with a BANG by attending this immersive retreat with me, Cathrin Manning, and 8 other amazing people with one desire in mind:
TO LIVE THEIR BEST LIFE!

JANUARY 25 - 29th, 2024
in Murrieta, California
Over the course of 4 days, we will be doing everything from pajama parties to immersive workshops. You'll have the opportunity to break through your limiting beliefs and even your fear of heights as we go ziplining 200 feet above the ground. We'll challenge each other to set the appropriate goals for the new year, create an action plan to actually achieve those goals, and have lots of fun along the way.
As someone who has faced their fair share of challenges and setbacks in my journey to creating my dream life, I know how important it is to surround yourself with like-minded people who are out there doing the dang thing.
This retreat is designed to be a safe, supportive environment where you can truly be yourself and take the steps necessary to walk confidently into your next chapter.
THE HOUSE

THE GAME PLAN
Please note that the times listed on the itinerary are subject to change. However, one thing that's guaranteed is that this retreat will be packed with learning, adventure, and activities that you won't want to miss!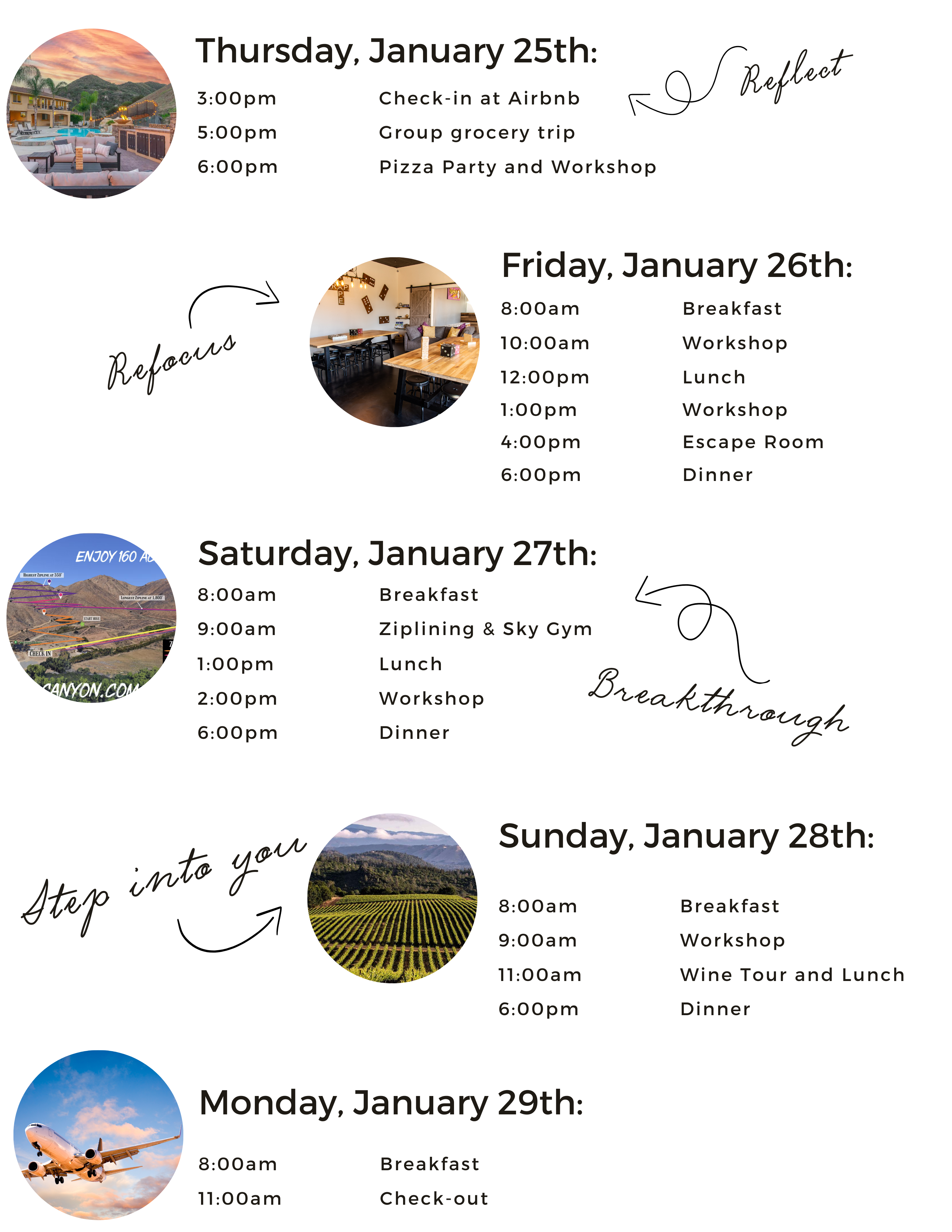 WORKSHOPS EXPLAINED
Each day there will be a workshop or two designed around the specific theme for the day. These are intended to be extremely interactive allowing you to reflect on what hasn't worked for you years previously, what you REALLY want out of this life going forward, what you need to break through in order to start living that dream life, and so much more.
By the end of this retreat, I want you feeling motivated to rock 2024!
And these workshops are how we're going to get you there.
TICKETS PSSSSSST!
For the first 2 weeks, you can get 10% off using code "EARLYBIRD" at checkout!
(Ends September 6, 2023)
Frequently Asked Questions
Where will the retreat be held?
Murrieta, California. The exact address of the venue will be given to all attendees closer to the event.
What activities are included in the retreat?
Alllllllmost everything is included in the ticket price. That means 4 nights stay, (most) meals, workshops, transportation, and all activities including ziplining, an escape room, and wine tour. The only thing you need to worry about outside of that ticket price is your transportation to and from the venue on the day of arrival and departure. Aka your flight (if you're flying) and drive to the venue. And then if we decide to eat out any of the meals, everyone is responsible for covering their meal. Otherwise, we will go grocery shopping and all help out cooking at the venue.
Is financial assistance available?
Affirm is available at checkout if you would like to set up a payment plan for the cost of your ticket.
What if I can't make it last minute? Can I get a refund?
Full refunds will be given for cancellations made 60 days or more prior to the start of the retreat. Since there are such limited tickets available, and this event does require attendees to travel, finding someone to fill your spot last minute won't be easy. BUT if you do need to cancel due to any reason, please reach out to my Event Coordinator, Shelby Reeder (
[email protected]
) and we'll try our best to find someone to buy the ticket from you.
Wait... we're all staying at the same place?!
You betcha baby! I told you it was an immersive 4-day retreat! But don't worry, almost everyone gets their own room and rooms can't be switched since it's the ticket you pay for. So if you want your own space to escape to at the end of a long day or even for a mid-afternoon nap, book your ticket accordingly!
Is transportation provided?
We will be providing the transportation during the retreat, but you will be responsible for getting yourself to the venue on Thursday evening and back home (or to the airport) on Monday morning.
Who can I contact if I have more questions?
If you have more questions, please contact my Event Coordinator, Shelby Reeder (
[email protected]
) with the subject line "Retreat Questions".
READY TO KICKSTART YOUR LIFE?!

It's about dang time you take the next step in your personal and professional development journey and I'm here to help you do it! Along with the other 8 amazing people attending this retreat.
But space is LIMITED, so don't wait to secure your room!

Use code "EARLYBIRD" to save 10% today. And I'll see you in California!!